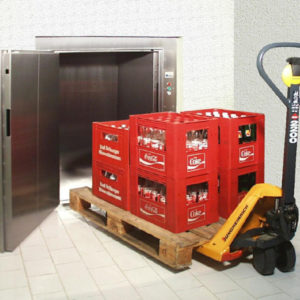 500 to 2,000 Kg. The best and the most reliable service lifts on the market.
Car width: 350 to 1000 mm
Car depth: 320 to 1000 mm
Car height: 600 to 2000mm
Concertina type landing doors. Nominal speed from 0,2 to 1.0 m/s.
Full documentation, operation manual, engineers drawing with every installation plus CE Marking.
Motor room can be at the top floor inside the lift shaft or at the side of the lift shaft, at any floor. Up to 30 floors / stops. Travel up to 120 m.