A big part of picking the right dumb waiter for you is to ensure you have picked the correct size, not every penny fits the slot in the case of the dumbwaiter.
Many new service lift owners do not always think further ahead to the uses of the lift and potential future uses such as using the lift for large luggage or certain sizes of tray in a commercial kitchen environment.
We always make sure that dumbwaiter dimensions are high on the agenda when discussing a project with our clients.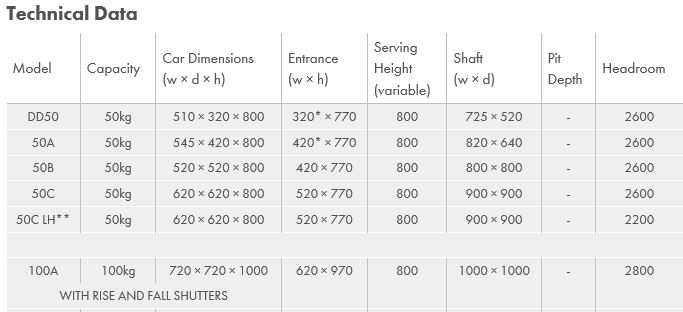 Commercial kitchens
1) When considering sizes for your restaurant/pub kitchen you should first take into account your average plate size followed by how many plates you would like to transport per trip. This is usually agreed at four plates per trip to serve your average table of hungry diners!
2) A secondary thought is usually capacity, 50kg is the normal route however sometimes larger items are transported such as numerous wine bottles for example, in which case an upgrade to a 100kg dumbwaiter
3) Finally consider the space in your kitchen, space is always at a premium in commercial business's as most space is kept back for restaurant floor and bar areas. Always ensure you choose the optimum space for the lift, we are more than happy to assist you with this on a site survey.
Residential Lift Sizes
Often home owners prefer a smaller dumbwaiter which is understandable as most home owners will use a dumbwaiter for basic tasks such as carry small amounts of food and drink, laundry and heavy items such as large book/boxes.
A space such as an old chimney breast can be used as a make shift shaft or even an old laundry cupboard space.
Power requirements should be considered alongside the space involved as almost all homes only have single phase power in the property.
The average space required for a residential dumbwaiter lift is around 750mm x 750mm.
If you need to discuss lift sizes with us, why not call us on 01743837303 or email enquiries@serviceliftco.co.uk.